Biography Sketch (Dr. SPS Khanuja)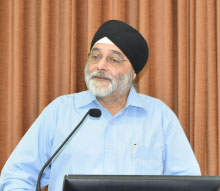 Dr. Suman Preet Singh Khanuja,
Innovation Mentor and Technology Advisor

FNAAS, FNASc, Ph.D. (Genetics)
Biotechnologist (Agriculture,Nutrition and Healthcare)
Dr SPS Khanuja possessing scientific leadership credentials as former Director, Central Institute of Medicinal and Aromatic Plants (CIMAP/ CSIR India) is also elected Fellow of National Academy of Science, India (FNASc) and National Academy of Agricultural Science (FNAAS) through the peer recognition of scientific work. He is recipient of several awards and distinctions like CSIR Technology Award in Life Sciences -2012, CSIR Award for Rural Development 2008 for Innovative Biovillage Strategy in Medicinal &Aromatic Crops, VASVIK Award in Bioscience & Technology in 2008; Nina Saxena Excellence in Technology Award-2007 of IIT Kharagpur, FICCI Award 2004 -05 for Rural Development, IDMA-Patent Award in Pharmaceutical Biotechnology 2004, AIBA-2000 Award for Agricultural Biotechnology; CSIR Technology Prize -1999 in Biological Sciences and Best Teacher Faculty Award-1995 of IARI, New Delhito name a few among several others.
He combines in him a rare blend of conventional and modern biology with core expertise in agriculture, plant genetics, molecular biology and biotechnology and has translated his work of R&D into above 50 international technology and product patents with above 200 peer reviewed research publications in addition to7 Books,31 Book/Monographs Chapters, 14 Practical Manuals/SOPs, 53 Reviews/Editorials, 28 Farm/Technical Bulletins, being Chief Editor of Journal (1), Magazines (3) and 10 Editorial Boards. He has delivered above 175 Invited Keynote Lectures.He has contributed to development of 38 plant Varieties,above 50 Processes/Technologies,12 MSME Products, 7 Technical Reports. He has mentored 7 Industries Mentored, and is advisor to >10 Societies/Organisations and steered 7 Mission Programs at national level.
Having served in Academics and Scientific domains of public sector for more than two decades (1986-2008), he also hasdecades of teaching experience in molecular genetics and various streams of molecular biology and biotechnology for agriculture and plant sciences since 1986at IARI (1986-1996) and CIMAP/CSIR in addition as guest faculty and PhD guide in universities (1996-2008). As research guide, he supervised post graduate students for PhD (16),and MSc (37) for their theses and dissertation projects.
Since 2008 he has been mentoring and guiding industrial research and innovation for technology and products leading to startups and entrepreneurs continuously. He served as director/mentor and advisor to biotech and nutraceutical industries like Avasthagen (Bangalore), Mayar Biotech (Sohna/Gurugram, Haryana), NutraHelix Biotech (Mumbai), Do You Even Gym (DYEG)&ProIN (New Delhi), Skies Life Technologies(New Delhi), Institute of Corporate & Industrial Research (ICIR-Lucknow), Better Deli Foods (New Delhi) and NutriPlanet Foods (Bangalore) to count the prominent ones. Currently Founder & Chairperson of FloraFauna Science Foundation, Lucknow since 2015, is also Founder Mentor of SKiES India (Delhi/Lucknow), aBio-Agriculture Platformfor enabling entrepreneurs through innovation incubator (Innocubator) conceptdeveloped by him since 2011. Since April 2018, he is serving as the Adviser on the Editorial Board of the journal Environmental Sustainability (Springer Nature).He is also Honorary Member, Advisory Board of the IJBST Journal Group since July 2020.
With government institutions, he has been member Research Advisory Council of National Instituteof Plant Plant Biotechnology (NIPB), ICAR, New Delhi (2017-20) and Advisor in the board of Agro-Incubator a-IDEA at ICAR-NAARM (National Academy of Agriculture Research Management) at Hyderabad since July 2018.He is Expert Committee Member NTPC (The ICAR-Network Project on Transgenic in Crops) since June 2018. He is Founder Editor the scientific communication popular magazine FloraSarthi since its inceptioninAugust2019. Served asChief Mentor, External Mentoring workshops for WOS-B component of Women Scientist Scheme (WOS) of KIRAN division of DST (Department of Science & Technology, GOI, covering three areas Agriculture and Allied Sciences (AAS); Health, Food and Nutrition (HFN); and Engineering and Technology Development (ETD) December 2019.
He is the Expert Member in the Global Executive Advisory Board of Expert Nutraceutical Advocacy Council (ENAC) in April 2019 to guide and advise on strategies for 'Nutraceuticals Sector" growth. He has beenChief Mentor, Institute of Industrial Development, IID, an entrepreneurship incubator working under PPP mode with Ministry of MSME New Delhi (2020-21); Currently he is Distinguished Professor, Bioengineering & Food Technology, Shoolini University, Solan since July 2020; Member Advisory Board Centre for Innovation, Incubation and Entrepreneurship (CIIE) Babasaheb Bhimrao Ambedkar University,BBAU (Central University), Lucknow since October 2020;He is also nominated by ICAR as the Chairman, Research Advisory Committee (RAC), ICAR-DMAPR (Directorate of Medicinal & Aromatic Plants Research), Boriavi, Anand, Gujarat since December 2020 andMember, Research Advisory Committee (RAC), ICAR-IARI (Indian Agricultural Research Institute, New Delhi) since July 2021.
---
Contact Information
Email :
spskhanuja@gmail.com
&
khanujazy@yahoo.com
Public Profile :
http://in.linkedin.com/pub/dr-suman-khanuja/17/198/192
Publications on web:
https://www.researchgate.net/profile/Suman_Khanuja/publications//
Phone :
+919711773867 and +918005044134